Window Poetry
June 9, 2021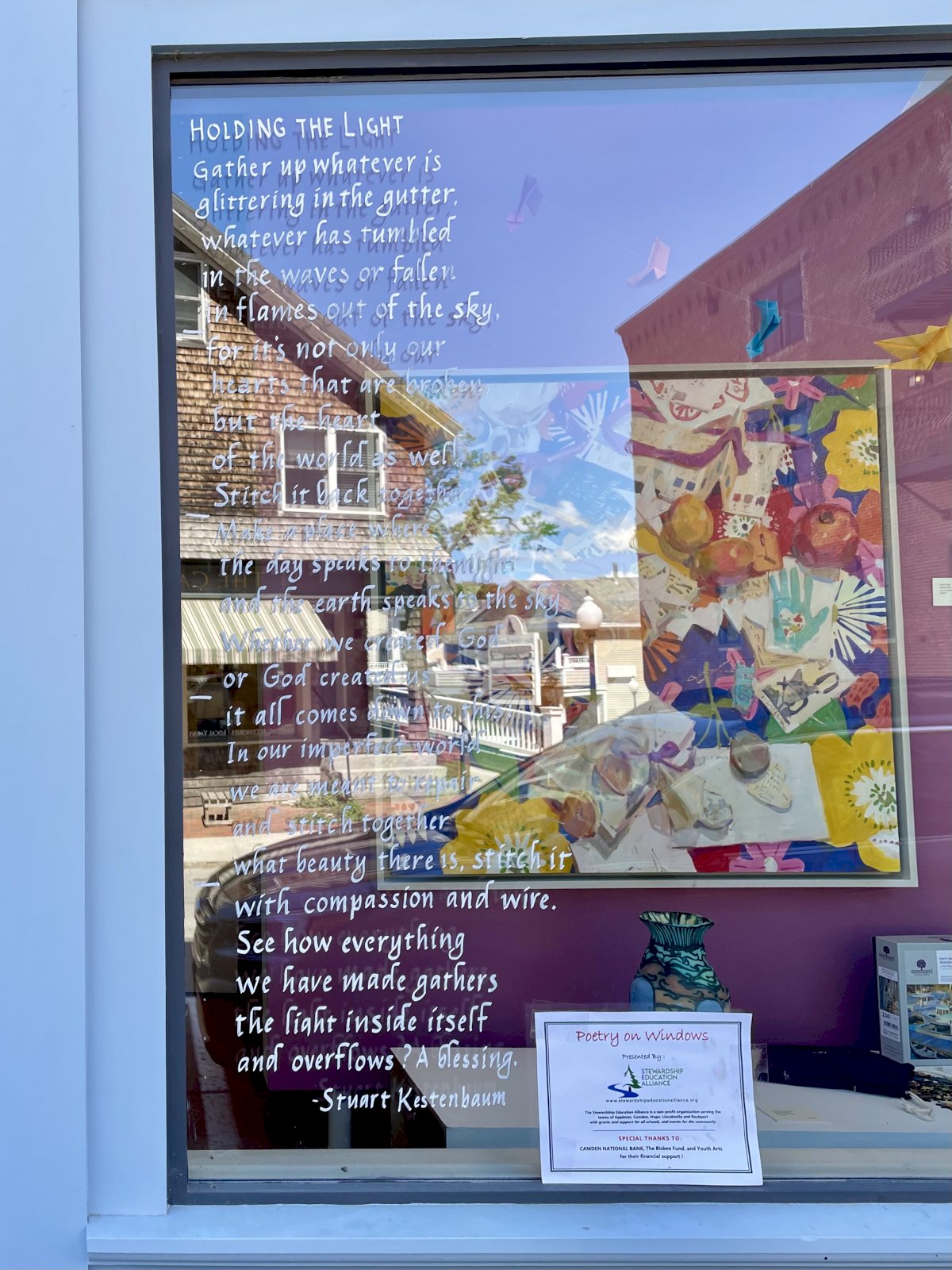 Page Gallery is pleased to be a partnering "Poetry on Windows (POW!)" storefront again this year. A celebration of poetry and the environment, the project was created by the
Stewardship Education Alliance
. Inspired by United Nations World Ocean's Day, the project collected original poetry from pre-school to 7th grade students about nature, watersheds and the ocean. Our window is host to Maine's Poet Laureate, Stuart Kestenbaum's "Holding the Light." Author of six collections of poems, Kestenbaum was the director of Haystack Mountain School of Crafts in Deer Isle for more than twenty-five years and currently hosts
Poems from Here
on Maine Public Radio. Using craft and the maker as metaphors, Kestenbaum says, "In our fragile world, perhaps we can make a metaphor for ourselves as menders, the ones who can repair those things that are torn and broken."
Gather up whatever is
glittering in the gutter,
whatever has tumbled
in the waves or fallen
in flames out of the sky,
for it's not only our
hearts that are broken,
but the heart
of the world as well.
Stitch it back together.
Make a place where
the day speaks to the night
and the earth speaks to the sky.
Whether we created God
or God created us
it all comes down to this:
In our imperfect world
we are meant to repair
and stitch together
what beauty there is, stitch it
with compassion and wire.
See how everything
we have made gathers
the light inside itself
and overflows? A blessing.
The community is encouraged to participate in a
POW! scavenger hunt
with prizes. Poems will be on display on shop windows throughout Camden until June 19th.
Shareable link to this blog entry:
http://www.thepagegallery.com/blog/window-poetry
---