Exhibition | Youth Art Show
February 1 - February 28, 2023
This year's youth art show is about fun and color, celebrating your favorite animal and exploring the work of artist Dahlov Ipcar with interactive art at the gallery.
Mail Art! Page Gallery invites children to adorn the gallery's walls this winter with drawings, paintings or a collage of their favorite animal. The gallery is offering free postcards at 23 Bay View Street in Camden and is distributing them through art programs in local schools with a prompt for children of all ages to create a piece of art depicting their favorite animal. Finished postcards can be dropped off or mailed to the gallery for installation in this special Youth Art Show.
On Site Activities! While celebrating our young artists, gallery visitors are invited to participate in collaborative weaving, an interactive puppet show, paper cut out activities, a community painting project, all stationed throughout the exhibition. There is also a mural project on view, made by 9 local youths after Dahlov Ipcar's Bright Barnyard.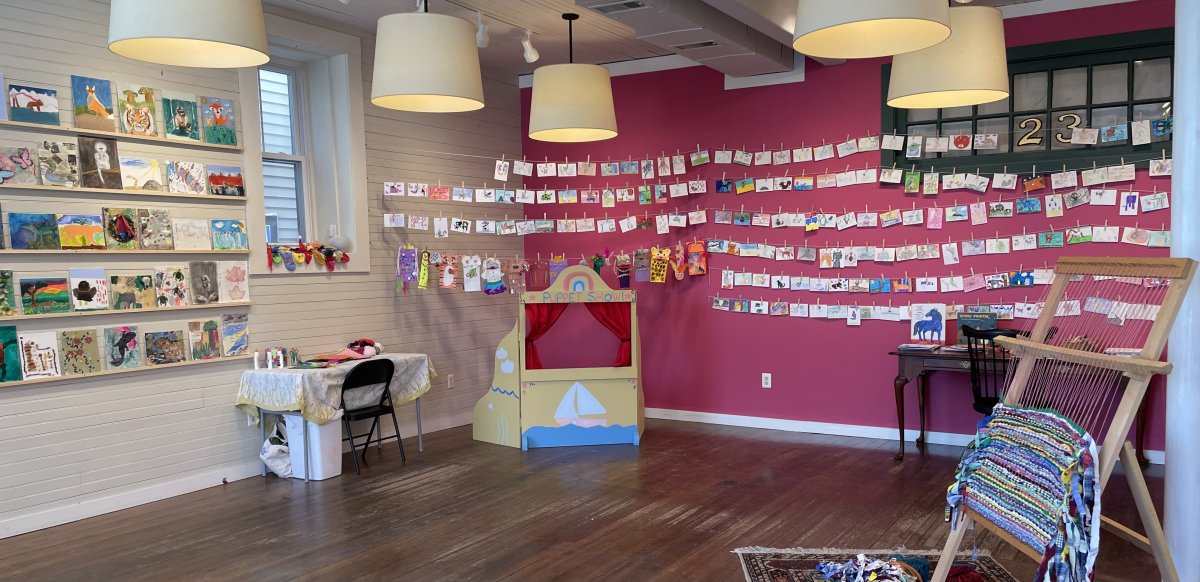 Nine local youths are collaborating on a mural based on a painting by Dahlov Ipcar in her 1966 book, Bright Barnyard.
Dahlov Ipcar (1917-2017) was an author, artist, and illustrator, whose career spanned five decades. She wrote and illustrated over thirty children's books, and became well known for her colorful, kaleidoscopic paintings and timeless stories. Dahlov's paintings are inspired by patterns and shapes in nature, her love of animals, and the fun of puzzling ideas from her imagination onto paper.
Dahlov's childhood home was filled with creativity. She was daughter of sculptor William Zorach and painter Marguerite Zorach. Her parents didn't give her any formal art instruction, but encouraged her to paint and develop her own style.
As an adult, Dahlov painted on her farm in Georgetown, Maine where she lived from 1937 until her death at age 99.