From traditional figure painting to book illustration, artists use images to tell a story while also imparting emotional resonance to the subject.
Artists: Anneli Skaar, Sal Taylor Kydd, Anne Emmanuelle Marpeau, Colin Page, Samantha Appleton, David Graeme Baker, Siri Beckman, JT Gibson, Chris van Dusen, Breehan James, and Camille Coleman
Book Launch: Nansen's Pastport

"Nansen's Pastport", is an artistic re-invention of the original refugee passport for post-Great War Europe, created by Norwegian polar explorer and humanitarian Fridtjof Nansen." The book, designed and conceived by artist Anneli Skaar is re-imagined as a climate refugee passport for humanity, using Nansen's own words in a contemporary context, inviting consideration on how to meet the pressing issues of current and future climate migration with wisdom from the past.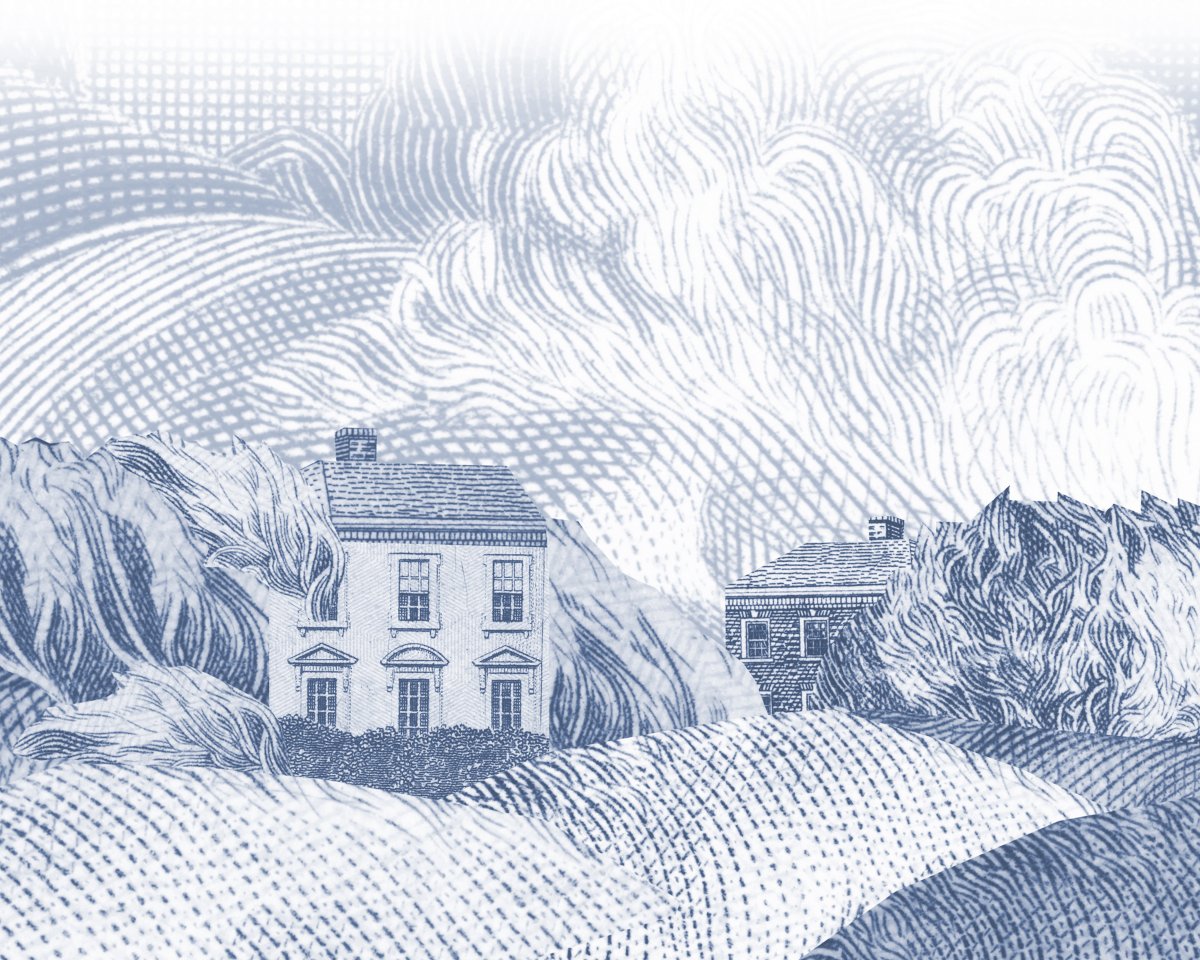 Anneli Skaar's American Banknote Collage: Fires, from Nansen's Pastport is one of a series of banknote collages representing several climate crisis-related scenes. The climate issues we face today began with the Industrial Revolution and are at a fever pitch today. These collages are created entirely with $1, $2, $5, $10, $20, $50, and $100 American banknotes, the currency of choice for the oil trade.
Book Launch: Landfall

Sal Taylor Kydd's Landfall is a limited edition book of poems and photographs about the islands off the coast of Maine. Landfall explores how our landscapes are embed with memory. Video: The making of Landfall.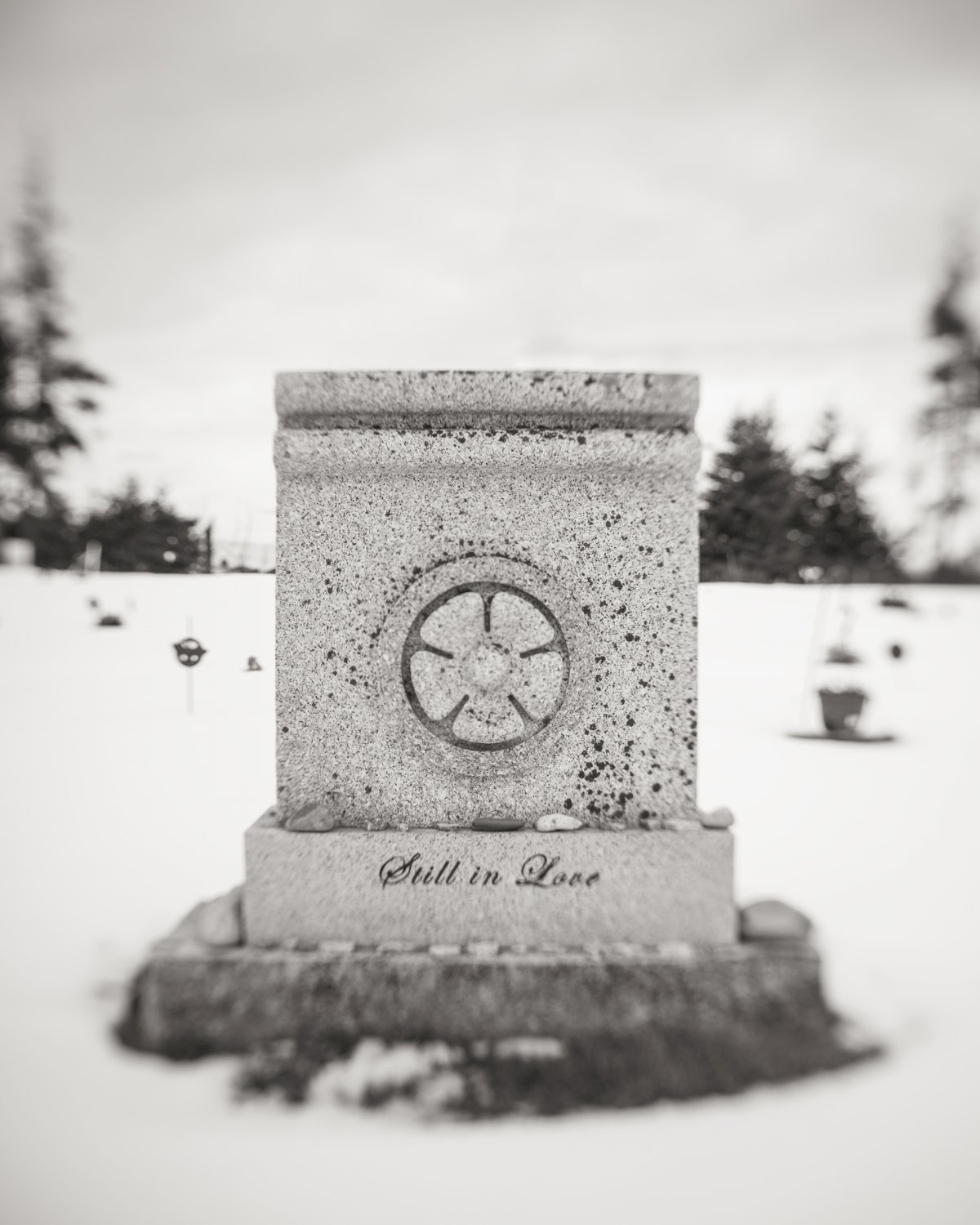 Excerpt from poem, Vestige by Sal Taylor Kydd
This is the land of porcelain, lace
and old silver glinting.
Where apple trees, like old teachers,
stoop to proffer wisdom,
telling me of time's
relentless passing;
reminding me
of who was loved
and who stood bravely on.
Wind sweeping,
skirts flapping -
our own indomitable
ancestral kin.
Stories of the Past

"I do an awful lot of thinking and dreaming about things in the past and the future - the timelessness of the rocks and the hills - all the people who have existed there." -Andrew Wyeth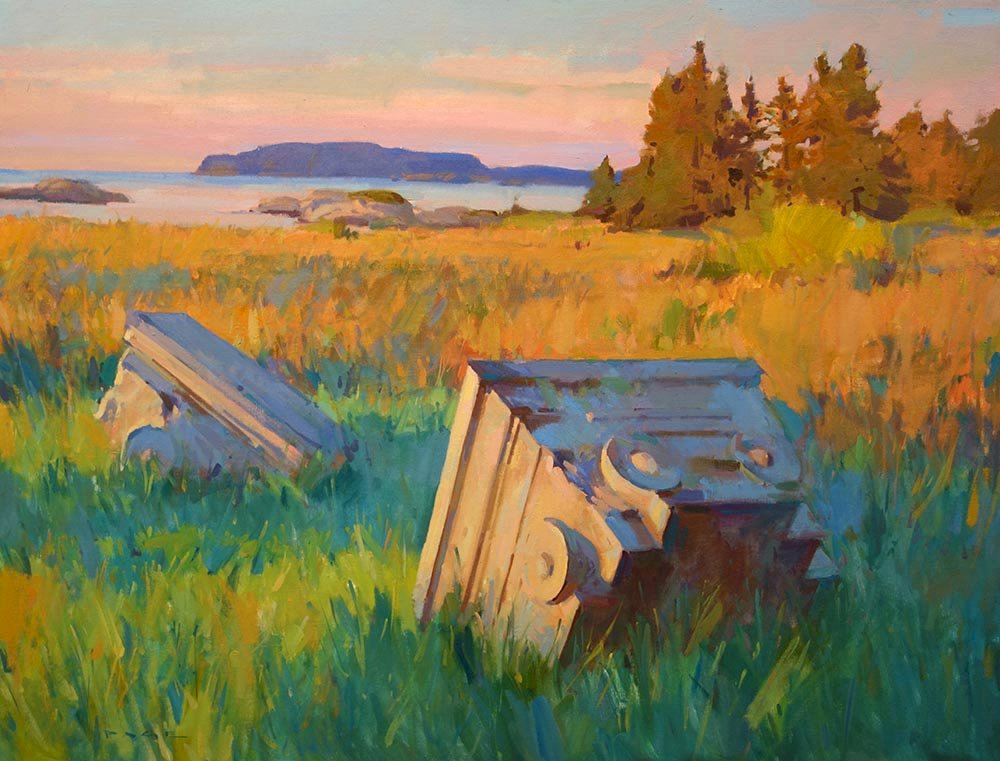 On a family trip to Dix Island, I walked through this field at sunrise. I had to know more about how this mysterious scene came to be. Reading about the history of the island led me to watercolor sketches and finally painting this large canvas in the studio over the winter, as a way to remember the place and that moment of discovery.
Horace Beals was given Dix Island as payment for a debt in the early 1800s. Bribery and corruption brought lucrative government contracts to his business. This 55 acre island became home to over 1400 people at one point, many were Europeans coming for the work of quarrying granite. Blocks of stone were mined and then carved into eagles and other architectural details before being shipped to build post offices, and federal buildings on the east coast from South Carolina to Massachusetts. When Beals died, he left the island to his wife, Jane Cornwall, who married four more times including to the Spanish Duke della Castelluccia, making her a duchess. Eventually the granite business diminished as concrete became a more favorable building material and demand lessened, and the island was given back to the influence of nature's slow reclamation.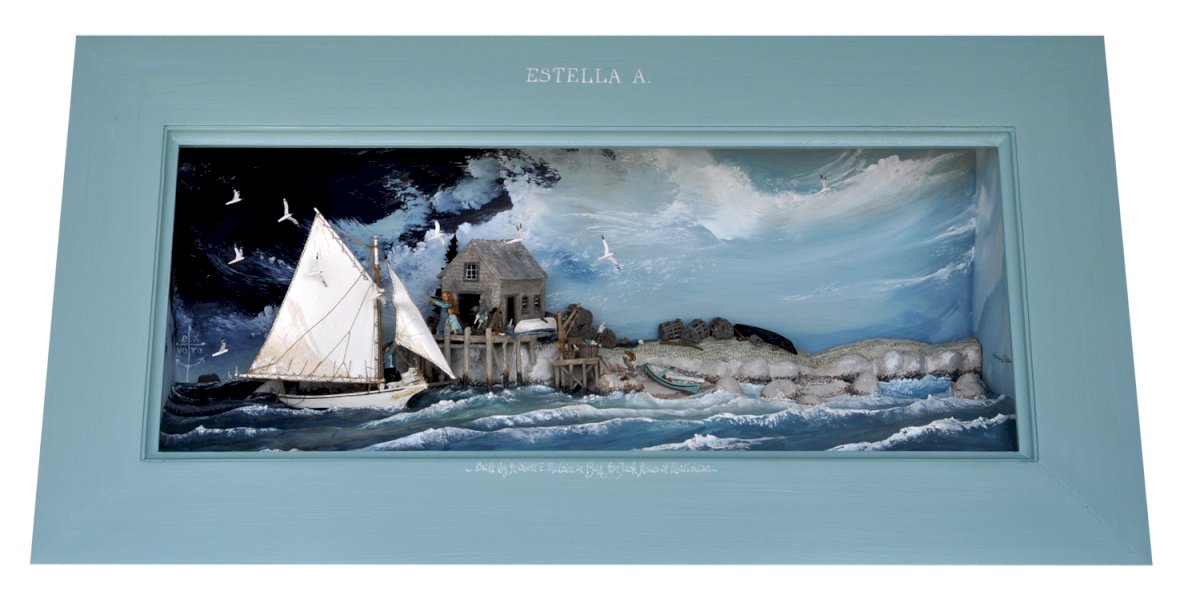 A. Emmanuelle Marpeau's shadowbox depicts a friendship sloop built in 1904 by Robert E. McLain for Jack Ames of Matinicus.
Robert E. McLain built Estella A. on Bremen Long Island in 1904 and launched her on New Year's Day for Jack Ames of Matinicus, who named her after his one year old daughter Julia Estella Ames. When the sloop was built, she was the last word in offshore lobster boats. Handy in stays and still run easily before a sea. She is seen here in the gut between Wheaton Island and Matinicus.
These boats originated in 1880 on Muscungus Bay between Pemaquid Point and Round Pond. They were used for all kinds of fishing along the coast of Maine, with a focus on hauling lobster traps. Around 1920 power boats became the primary fishing boats and Friendship Sloops were relegated to the role of pleasure craft.
Stories Suggested

These artists begin the story with visual prompts that leave us asking for more, trying to guess at what comes next. There is a story here, but only a few clues to hint at the way.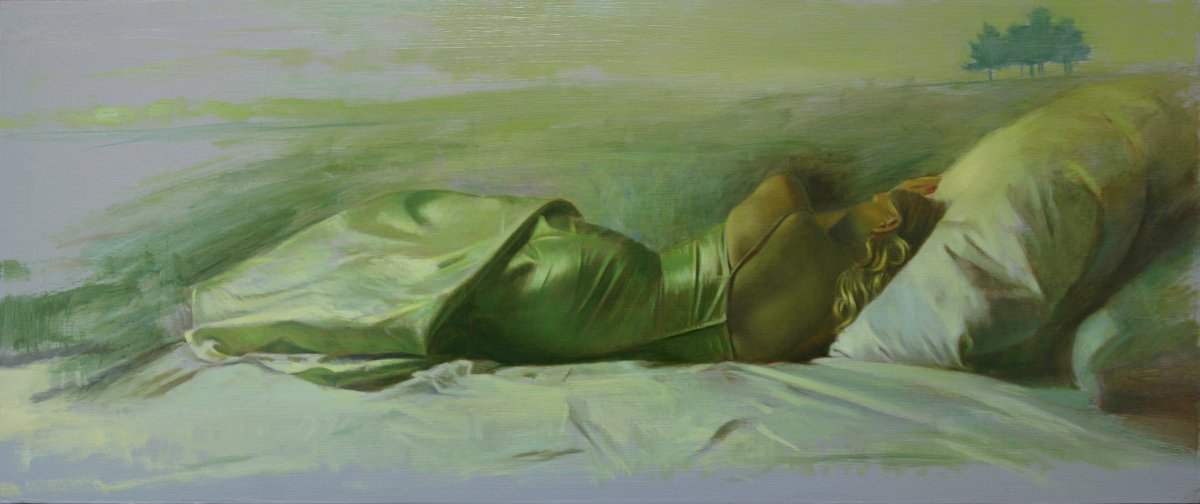 David places an interior figure into an exterior landscape in this surreal image. The figure and the folds of fabric are beautifully rendered. The landscape is reminiscent of the work of Andrew Wyeth, and also a possible insight into the figure's thoughts. Is she dreaming of the trees? Longing for another place? What is the significance of her silk dress? What or who was she dressed for?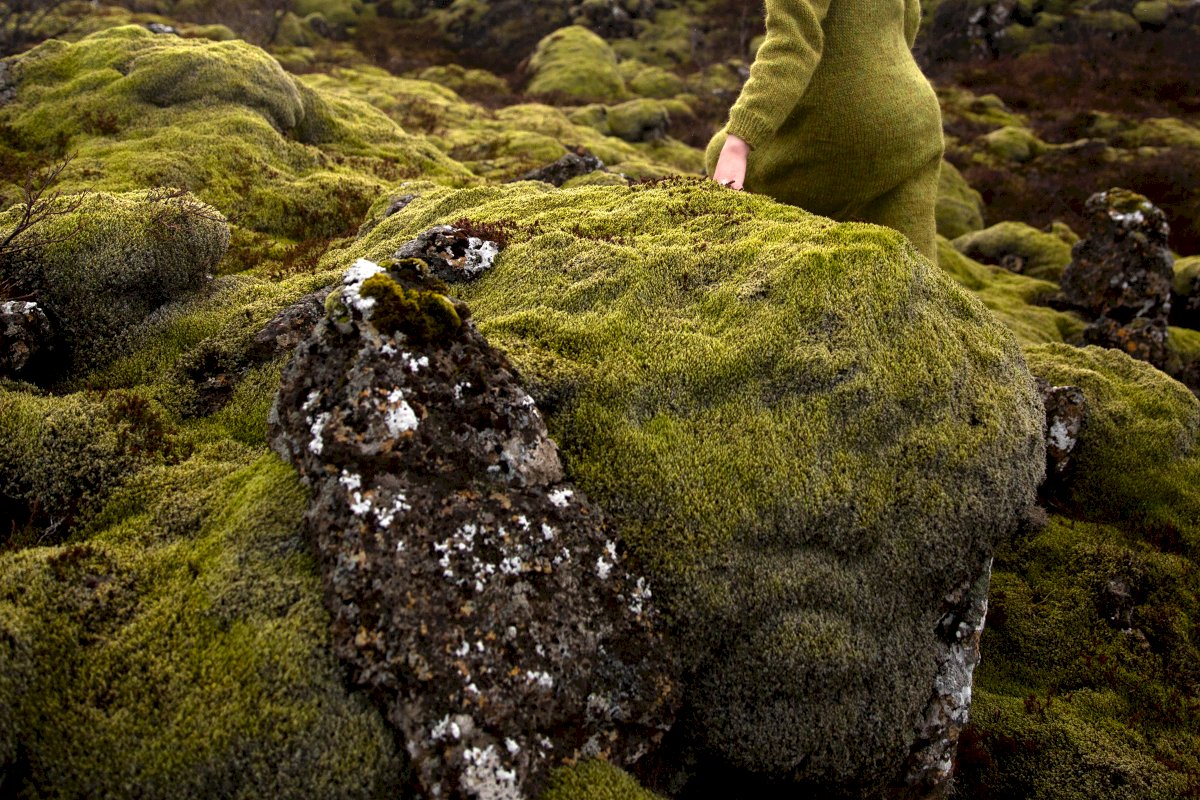 Camille photographed this Russian model in a knit dress of her own making among Iceland's cold mossy mounds. The nubby green fabric curving around the model mimics the landscape, and we see the figure as part of her natural surroundings. She is gathered up by the ground she explores, in color, texture and form. Where is she going? Where did she come from?