Mark making is how artists show a love for their chosen medium, whether gestural or precise, descriptive or showy, atmospheric or sculptural. An artist's hand is most directly visible in how they manipulate their materials.
Featuring works by David Graeme Baker, Siri Beckman, Gideon Bok, J.T. Gibson, Jessica Lee Ives, T. Allen Lawson, Susan Lichtman, Colin Page, George Pearlman, Peggi Kroll Roberts, and Simon van der Ven.
Broad vs. Precise

"I keep looking for different ways to say the same thing." -Isamu Noguchi
George Pearlman's glazes fall over the convex form in broad strokes and emotive drips like melted stained glass, expanding the surface physically. The alternating marks of intention and accident, and the bold design, conjure an immediate sensory response.
Simon van der Ven's precise surface treatment, carving, brushing, abrading, and polishing, draws you into the mesmerizing pattern circumnavigating his vase. The small scale and slight variation of the dimples and the wood-fired glaze commands closer attention. He has added interest to the built form through the removal of materials, creating a meditative pattern.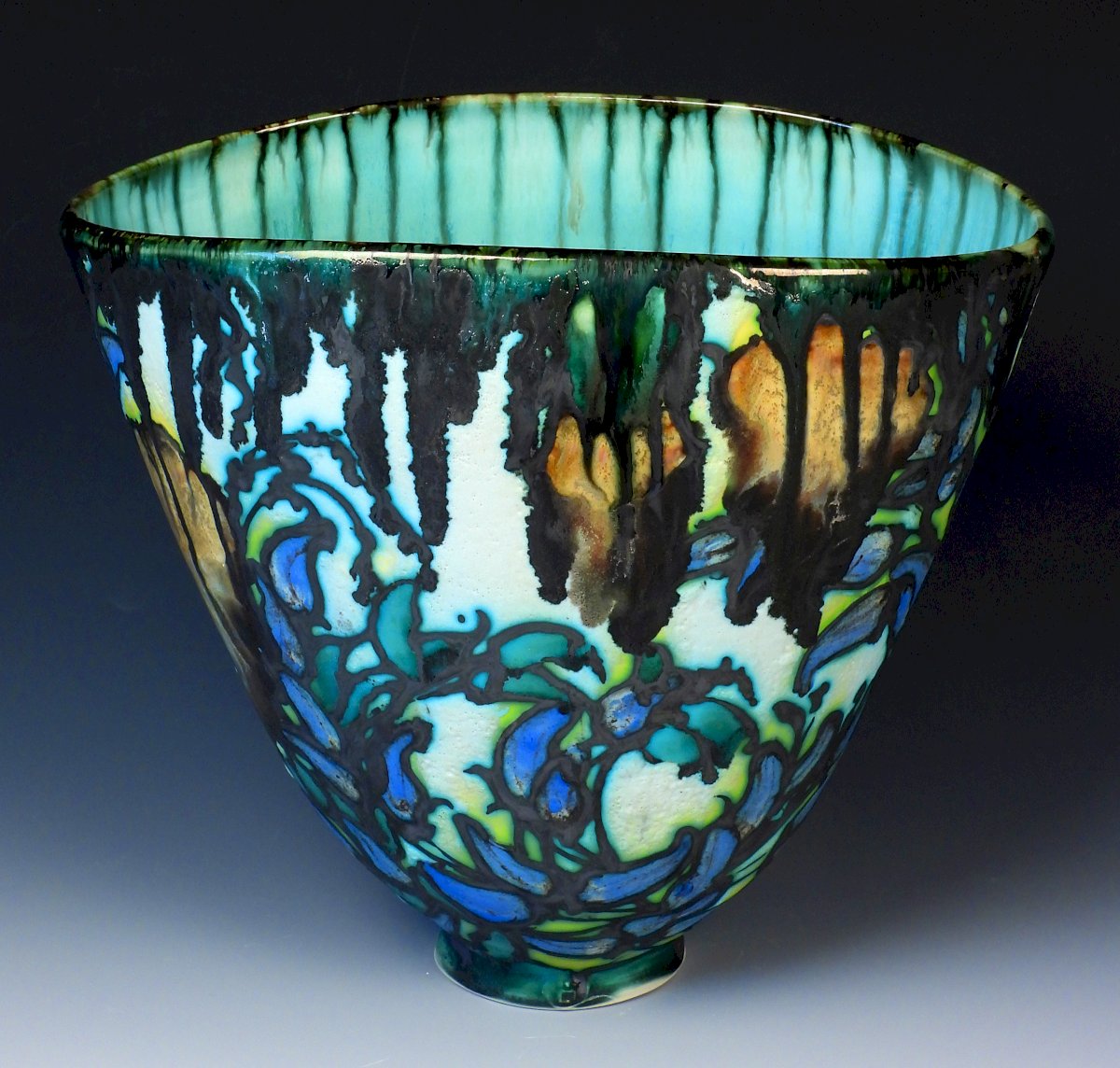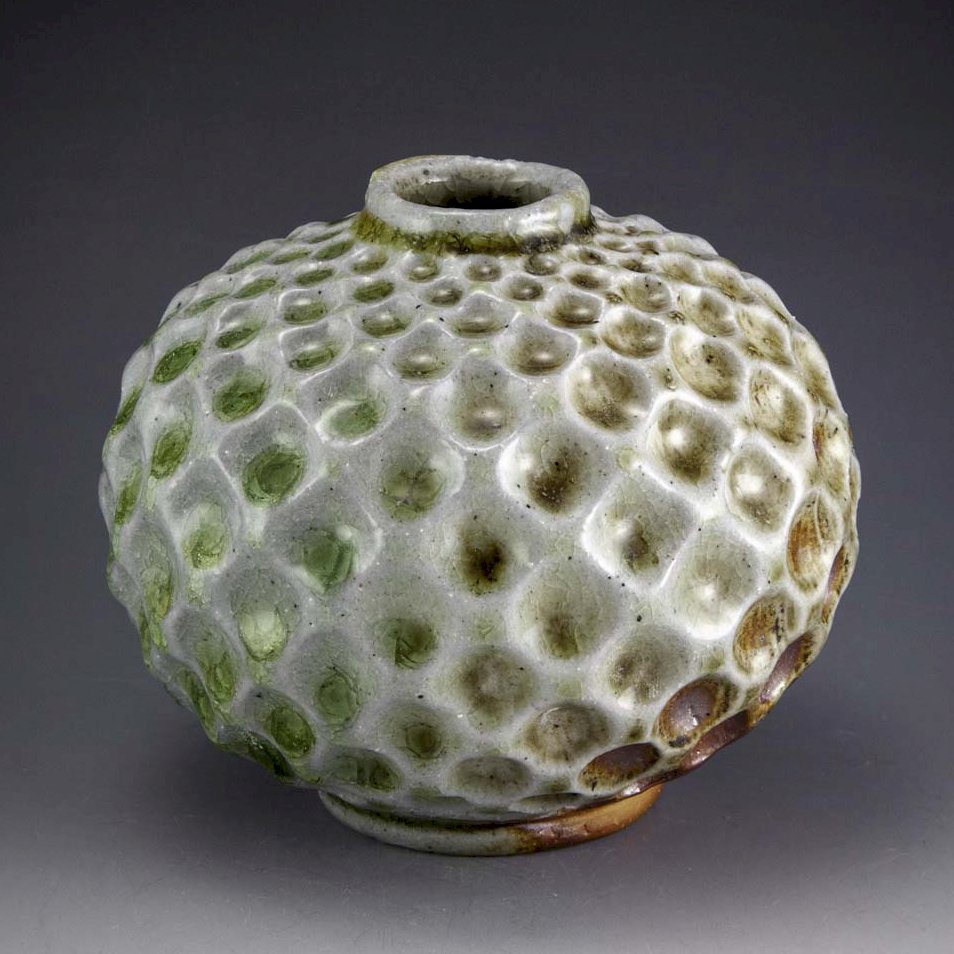 Sculptural vs. Ineffable

"Flesh was the reason oil paint was invented." deKooning
T. Allen Lawson uses impasto, the technique of laying on paint or pigment thickly so that it stands out from a surface, to describe the heavy boulders and thick blueberry barrens. Layered brushwork makes his small painting sculptural and substantial.
Jessica Lee Ives painting captures the thick atmosphere of a hot summer day. Thick mark making flecks highlights of sun across the surface of the painting over a thin wash of colors, suffusing the scene with an ineffable heat.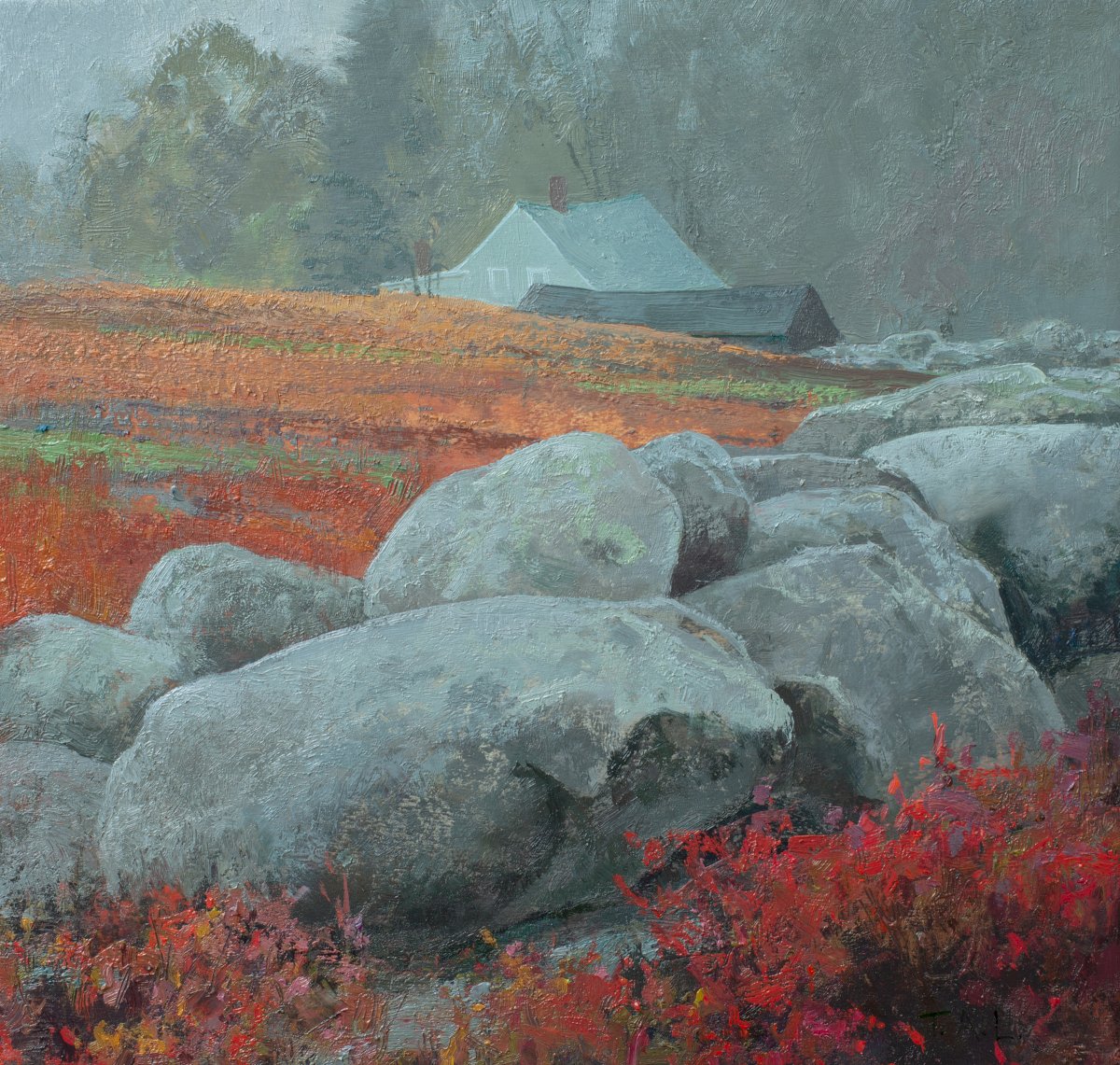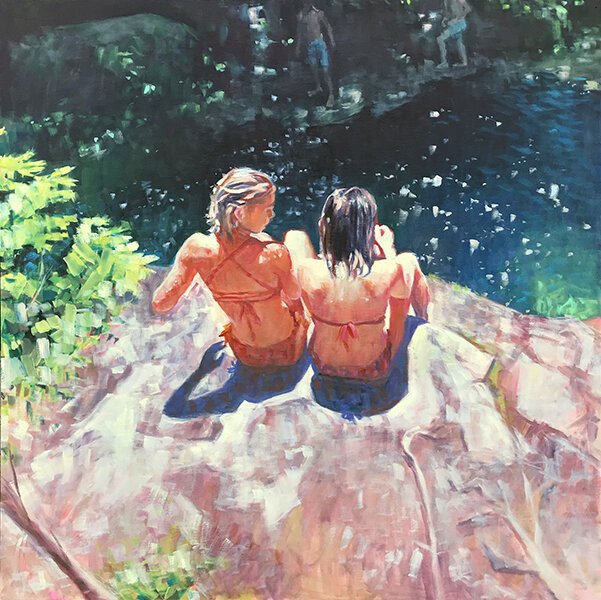 Calligraphic vs Flat Shapes

"I am a colorist with line." -Degas
Colin Page uses line in an expressive, lyrical manner, moving shadows across the wrapped boats, creating form and movement. His brushwork brings life to a still scene.
Peggi Kroll Roberts uses broad strokes to paint in planes, simplifying forms into flat shapes. Her paintings surprise us with the complexity of information conveyed from minimal brushwork, an indication of her tremendous skill.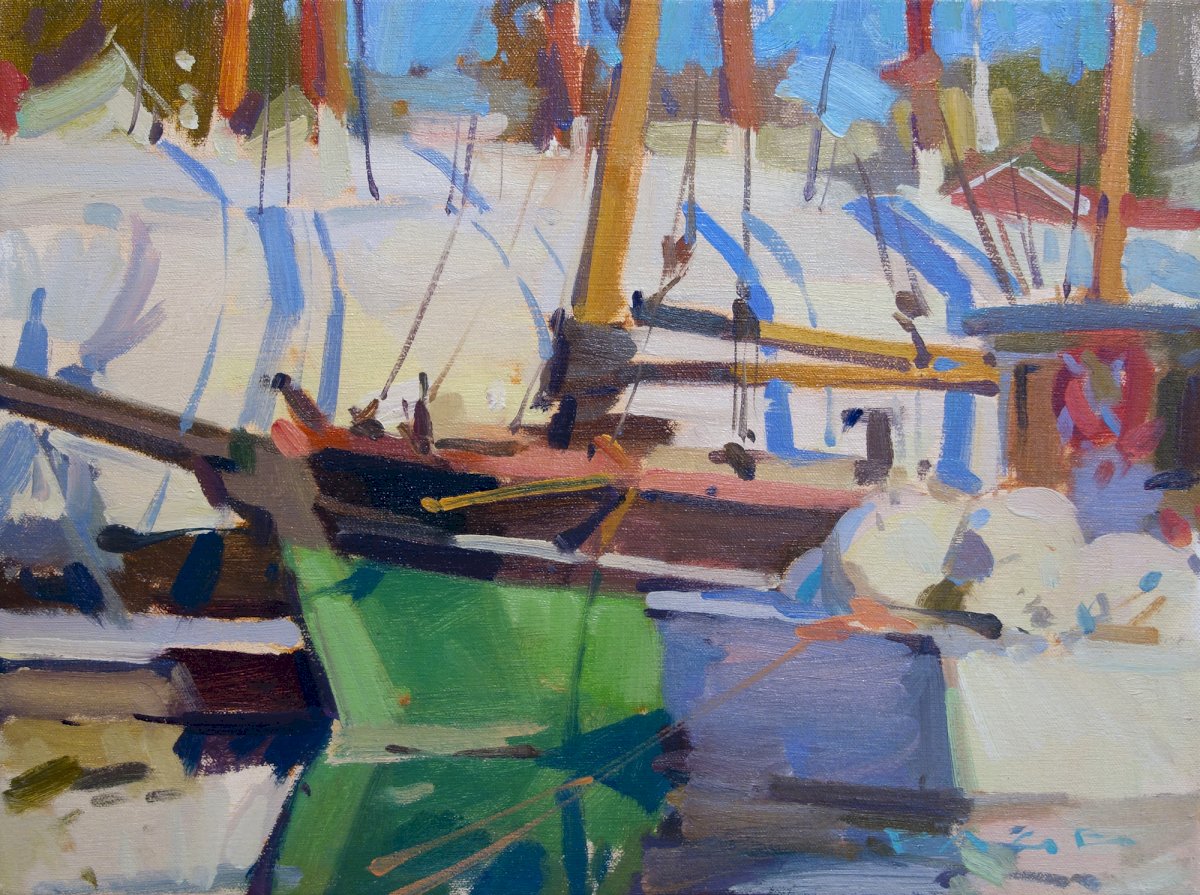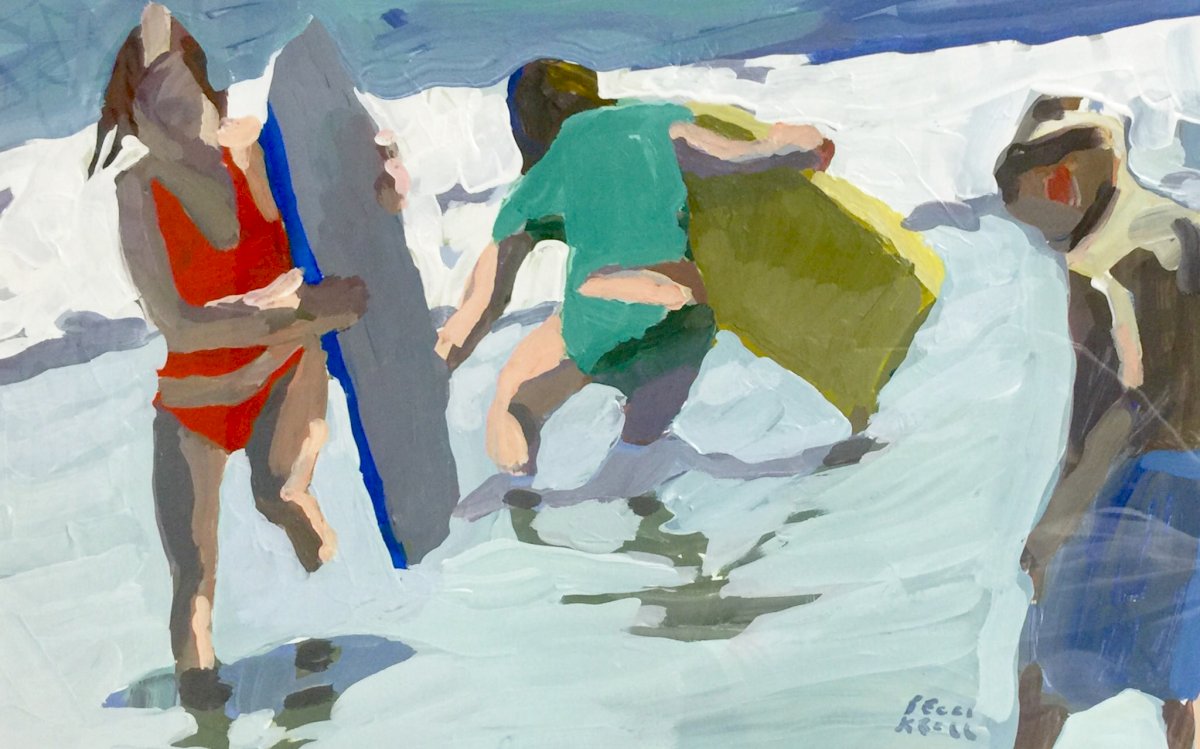 Obscuring, Concealing, Layering

"That is called Pentimento because the painter 'repented,' changed his mind. Perhaps it would be as well to say that the old conception, replaced by a later choice, is a way of seeing and then seeing again." Lillian Hellman
Gideon Bok uses pentimento, a visible trace of earlier painting beneath a layer or layers of paint on a canvas, to show the passage of time. Time is revealed in the process of repainting objects as they move around the studio.
Susan Lichtman also uses layers to construct and divide space. Her brushwork is a descriptive shorthand for light and color through a fragmented space.